Safina Makes Marlin Sponsorship Work
---
Article by By J.J. O'Malley | Published by: automobilsport.com – photo grandam
---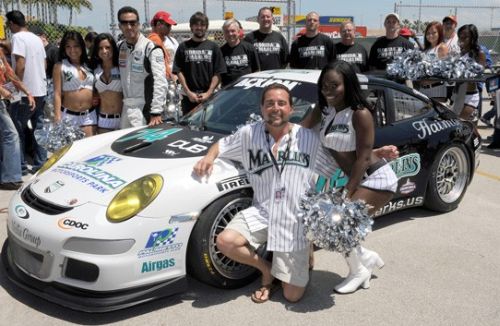 That's usually the case on a race weekend, especially one like the recent event at Homestead-Miami Speedway where the Grand-Am Rolex Sports Car Series presented by Crown Royal Cask No. 16 shared the bill with the newly unified IndyCar Series.
Once you get through writing about David Donohue winning the pole, Scott Pruett and Memo Rojas capturing the GAINSCO Grand Prix of Miami and Cristiano da Matta's return to race as a full-time Rolex Series driver, along with the stuff about the IndyCar Series unification, about all that's left is a crammed notebook column – which may not even run due to space constraints.
Often, deserving stories are overlooked, buried deep in the copy or unfortunately even ignored.
Such a deserving story was the efforts of Joe Safina Racing with Mitchum Motorsports at Homestead, and the 17th-place finish of Joe Safina, Derek Skea and Anthony Lazzaro in the No. 74 Florida Marlins Porsche GT3.
The team landed sponsorship from the Marlins for the GAINSCO Grand Prix of Miami. While it was originally a one-race package, the team treated it with all the trappings of a major sponsorship.
Safina not only had his Porsche painted up in the Marlins' teal and black colors, the team members had Marlins' shirts and the drivers wore the team's uniform tops. On race day, the Marlins' cheerleaders on hand to sign autographs and pose for pictures.
"I wasn't a baseball fan until recently," Safina said. "Now, I'm a big fan.
"The Marlins have been very good to us. They've been very supportive of Safina racing. We loved having them and they've been real good to us. They loved the show we put on."
The Marlins will be back with the team for the next two years, and have already asked Safina to bring the car to a ballgame next season.
That's a good example of how a sponsorship benefits both parties, and the potential of a team like Safina Racing with Mitchum Motorsports to land a major package.
But, checking Safina's resume, his attention to detail comes as no surprise. Whether it's racing or business, he doesn't do anything half-fast.
A native of Brooklyn, Safina started in business at age 12, manufacturing political buttons. He started his own cellular phone company at 17, and then got into the classic automobile restoration business. His next job was as a stockbroker – he made his first million before he turned 21 – formed Safina Investments Inc in 1991, and joined follow stockbrokers David Nichols and Jon Lerner in 1993 in a firm that had 200 employees and participated in more than a billion dollars in financing. He was included in The Winner's Circle II by R.J. Shook, a book about how 10 stockbrokers became the best in the business.
Safina sold NSL in 1996 and moved to South Florida, where he planned on taking up racing Ferraris, BMWs, Fords, Lamborghinis, Lolas, Porsches and other exciting cars. However, another business venture intervened – the music business. Before long, Safina was CEO of Pure records, Pure Games, battle Rap.com, and later, Loud.com. On the latter, a prospective rapper can download a background track for 99 cents, record their own song, upload it back. The winner gets $100,000 and a record deal.
Smoking Sessions carried an interview with Safina, in which he talked about an impromptu interview between himself, music legend Steve Rifkind (his partner at Loud.com) and rapper Dre:
"I met with them cold, meaning I had no prior relationship with them or any sort of contact. Basically, I walked in, introduced myself, and laid out for them what I was looking to do. After a few minutes, Dre stared me right in the face and he said, 'Joe, you're like the caveman that discovered fire. This is the best idea I've ever heard and I'm shocked that no one has thought of it.'"
Later in that Smoking Sessions interview, Safina talked about his racing:
"I started racing cars when I was young. At 26, I wanted to do it again, and everyone said, 'no, no, no, you can't do it, you've been out too long, you have too much on your plate, too many people depending on you.' Within six months, I was driving the 24 Hour race at Daytona International Speedway for a factory team and finished in the Top 10 three years in a row. Another thing – I've always been interested in aviation. People said, 'no you don't' have time, it's expensive, it's dangerous,' etcetera and so forth. Now I'm jet rated and have more hours than most pilots. DO NOT tell me what I can't do because I'm going to go and do it! Now, keep in mind, that doesn't come without a challenge. I was recently at a race in Sebring, and I burned 13 percent of my body. But you'd damn well better believe I'll be in a car next week!"
While the Safina Racing with Mitchum Motorsports Porsche GT3 will not be on track in Mexico City, the team will be in action at Virginia International Raceway, Lime Rock Park, Watkins Glen International, Miller Motorsports Park and other upcoming events in 2008.
"We're going to miss a couple of races, but we're going to run most of the remaining season in the car," Safina said. Sponsors for upcoming events include the Haimov Watch Company and Strutt Grill.
"We want to show the sponsors that we are able to perform on track and off track, and getting people interested in watching us perform," Safina said. "Our Marlins car was probably one of the most photographed cars at Homestead. It was amazing. We're going to have something exciting at every race."
Safina is using this season in preparation for a full-time assault in 2009.
"Now that the music business is kind of running on its own and everything's going great, I'm using it as an opportunity to focus on racing," Safina said. "Next year is going to be our big year. This year, we're working the kinks out and we're doing a lot of exciting promotional stuff right now.
"We really love Grand-Am racing," Safina said. "Grand-Am is the series. It's the place to be."