Time Is Right for Airbnb, DoorDash IPOs, Asset Manager Says
---
Joseph Safina is interviewed by TheStreet's Katherine Ross | Published by: TheStreet
---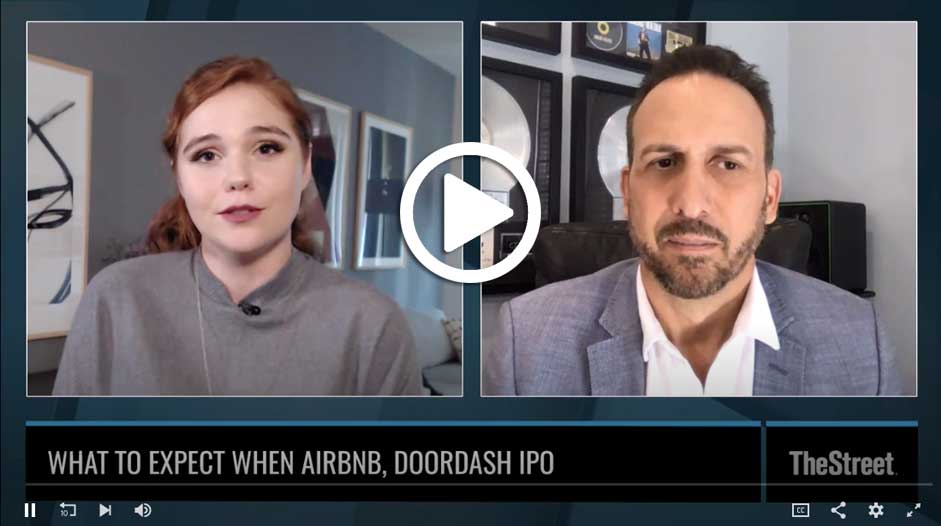 Joseph Safina joined TheStreet to discuss the IPOs and what he'll be watching. 
Two companies–DoorDash and Airbnb–that are considered to be darlings by Silicon Valley are gearing up for their initial public offerings. DoorDash is looking at pricing between $75 and $85 a share.
In a revised IPO filing published last week, DoorDash set an initial IPO price range of $75 to $85. That spells a valuation range of $27 billion to $33 billion after accounting for outstanding stock options, warrants, and restricted stock units (RSUs)–well above the $16 billion valuation the company received in a June funding round.
"We believe that suburban markets and smaller metropolitan areas have experienced significantly higher growth compared to larger metropolitan markets because these smaller markets have been historically underserved by merchants and platforms that enable delivery. Accordingly, residents in these markets are more acutely impacted by the lack of alternatives and the inconvenience posed by distance and the need to drive to merchants, and therefore consumers in these markets derive greater benefit from delivery," DoorDash wrote in its S-1. "Additionally, suburban markets are attractive as consumers in these markets are more likely to be families who order more items per order. Lighter traffic and easier parking also mean that Dashers can serve these markets more efficiently. As a result of our early focus on and experience with suburban markets and smaller metropolitan areas, we are particularly well-positioned for continued growth in these markets.
And Airbnb is looking to price in the range of $44 to $50, which–at the higher end of that range–would value it at $30 billion. For comparison, the alternative accommodations leader was valued at just $18 billion in an April funding round–when fears about COVID's impact were running especially high–and at $31 billion in a 2017 funding round.
Watch the full interview above for more.
Editor's Note: Since the time of taping, reports have emerged that Airbnb plans to boost its IPO range to $56 to $60.
---
ABOUT JOSEPH SAFINA:
Joseph Safina is CEO of Safina Capital, specializing in large-scale funding,
M&A, business development and marketing.